Overview
Description of the Community
The Hispanic community of Miami is the most dominant in the city due to large-scale migrations that occurred during the 1920s. The population is spread out through multiple areas and nowadays occupies rural, urban, and suburban areas.
Physical Environmental Considerations: The Community as a Place
Description: General Identifying Data
The community identified for analysis resides in different parts of Miami. The main neighborhoods that can be mentioned include Allapattah, Downtown Miami, El Portal, Little Haiti, Little Havana, Liberty City, Aventura, Bal Harbor, Coral Gables, Coconut Grove, South Beach, and several others.
Boundaries, Area in Square Miles
Regarding topographical features, different community members prefer living in different areas based on the distribution of their cultural characteristics. Dominican Hispanics can be found predominantly in the northwest area of the City, while Mexicans live in Homestead and Florida City near the Redland industrial farms (Toro, 2014).
Housing
Both public and private housing are available to Hispanic communities in Miami. There are significant challenges such as housing distress from the subprime lending crisis and the impact of growing unemployment (Miami Dade Government, 2015). In Miami, the condition of the housing can range from extremely low to extremely high because of the distribution of income. In areas such as Allapattah, the poorest area of Miami, the housing is usually unsatisfactory. The sales market for housing is balanced (a vacancy rate of 2.2%) while the rental market is tight (a vacancy rate of 6.5%) (U.S. Department of Housing and Urban Development, 2016). For the homeless and near homeless, multiple housing options are available. Examples include the M. Teresa Mission of Charity, Miami City Mission Youth Center, the Salvation Army – Red Shield Lounge, Chapman Partnership, Miami Rescue Mission, and several others. For the elderly, there are predominantly private retirement homes; examples include Bay Oaks Historic Retirement Residence, the Palace Group, East Ridge at Cutler Bay, St. Anne's Nursing Center & Residence, and dozens more.
Environment
The climate is characterized as a tropical monsoon that has hot summers and warm winters. In all areas, the current air quality index (AQI) is 26, which is characterized as a good indicator of air cleanliness. The population reports high to moderate satisfaction with the management of pollutants. Based on Numbeo's (2018) statistics, Miami has a moderate (47.87%) level of water pollution, has high levels of satisfaction with garbage disposal (64.44%), and a high quality of green parks (67.78%). Possible odors may include car exhaust fumes from traffic or unpleasant smells that may come from street food restaurants. Local farming is a significant source of the supply of food for the community because the Miami climate allows for the harvesting of many crops and plants.
Fresh produce is available in supermarkets and markets around the city, while governmental initiatives push the topic of access to healthy foods in Miami on a regular basis. The community has a history of devastating hurricanes and other climate disasters. Hurricane Irma was the last to hit Miami and was among the strongest ever. While there is general knowledge of how the community can prepare for a potential disaster, the level of preparedness within the Hispanic community of Miami is unknown.
The People of the Community
Population Profile
According to the 2016 Census, the Hispanic population of Miami is 275 thousand people. Population density is 12,139.5 people per square mile. Between 2010 and 2015, the total population of Miami grew by 1.46 million people while Hispanics accounted for the 51% of the growth (Klas, 2016). Families are usually large, with members staying together and maintaining their connections and traditions.
Biological Considerations/ Vital and Demographic Population Characteristics
The population's median age is 37, with people aged 18 and older make up 78%. The sex distribution is almost equal, with 49.71% of the population being male and 50.29% being female ("Miami City, Florida statistics and demographics," 2000). By race, the community is divided into white and non-white Hispanic. Taking into account that the Hispanic community makes up around 65% of the total Miami population, Mexicans contribute to 1.01%, Puerto Ricans – 2.83%, Cubans – 34.14%, and other Hispanics and Latino – 27.77% ("Miami City, Florida statistics and demographics," 2000).
The infant mortality rate is 2.9 per 1,000 live births (Peristats, 2013); maternal mortality is low, with around four to six deaths occurring each year (LeCounte, O'Connell, & Zhang, 2011). The overall death rate among Hispanics is 305.8 deaths per 100,000 people (CDC, 2017). For all ages, cause-specific deaths are illustrated in the table (Figure 1) below (per 100,000 people):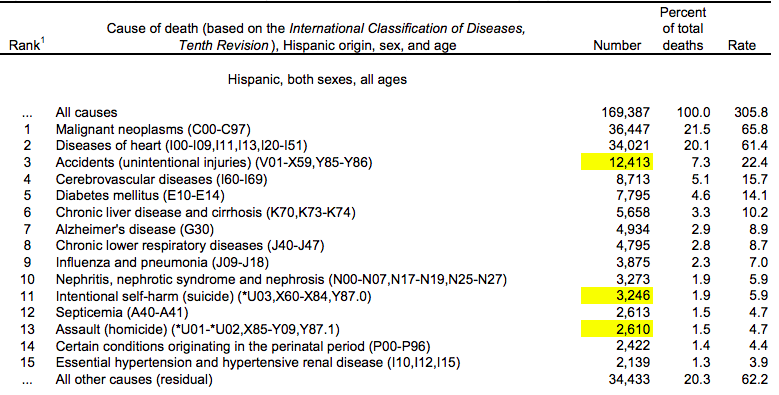 In Miami, the leading causes of death are Cancer (114 deaths per 100,000), diabetes (50% the likelihood to die from the condition compared to whites), and obesity (23% more likely to die from the conditions) (CDC, 2015).
Psychological Considerations
Miami is now considered the capital of affluent Latin America, which means that economic opportunities for the community as prosperous. From the formal perspective, there are communication networks such as the Hispanic Communication Network, while informally, the community keeps close family and friendship connections. According to Velis, Shaw, and Whiteman (2010), the likelihood of the community members becoming victims of suicide or homicide increases. Unemployment, housing issues, and mental problems are key sources of stress within the community.
Sociocultural Considerations
The median income of a Hispanic family is $44,800 (Flores, Lopez, & Radford, 2017). 21.9% of people live in poverty, with an estimated unemployment rate being 6.6% in 2015 (Flores et al., 2017). The rate of educational attainment is 15% (bachelor's degree and more), while for the indicator of high school graduation or less in 61.4% (Flores et al., 2017). The rate at which the population speaks English is estimated at 69% (Flores et al., 2017). Roman Catholicism is the dominant religion of the Hispanic community in Miami.
Government and Leadership
The community is self-managed, and there is no unique governing body to guide its operations. The mayor of Miami, Carlos A. Gimenez, is the person responsible for making sure that all community affairs are taken under control. Requests are taken at the office (Stephen P. Clark Center, 111 N.W. 1st Street, 29th Floor).
Education and Transportation
Multiple private and public educational facilities are available. They include the University of Miami, Florida International University, Miami Dade College, and others. Libraries include the Miami-Dade Public Library System, Richter Library, Louis Calder Memorial Library, and others. Resources accessible to special populations include CAP4Kids Miami, Hope for Miami, Florida Department of Children and Families, Parent to Parent of Miami, and several more.
Transportation
Available transportation methods include public transit, bikes, and cars.
Behavioral Considerations
The general nutrition of the community is characterized as a traditional Hispanic diet that relies heavily on grains, beans, red meat (unprocessed), and fresh produce. Key leisure activities include events and holidays, sports, dance, and music, as well as outdoor recreations. The rate of seat belt use among Hispanics is as prevalent as among non-Hispanic whites (Briggs et al., 2006).
Health System Considerations
All local health care facilities provide assistance to the members of the Hispanic community. The absence of insurance and language barriers are the main limitations to health care assessment. Key health needs include the management of cancer, smoking during pregnancy, and infant birth weights. The Affordable Care Act is a viable financing support resource to improve the health of the Hispanic community of Miami.
References
Briggs, N. C., Schlundt, D. G., Levine, R. S., Goldzweig, I. A., Stinson, N., & Warren, R. C. (2006). Seat belt use among Hispanic ethnic subgroups of national origin. Injury Prevention, 12(6), 421-426.
CDC. (2015). Hispanic health. 
CDC. (2017). Deaths, percent of total deaths, and death rates for the 15 leading causes of death in selected age groups, by Hispanic origin, race for non-Hispanic population and sex: United States, 2014. 
Flores, A., Lopez, G., & Radford, J. (2017). Facts on U.S. Latinos, 2015. 
Klas, M. (2016). Hispanic growth in Florida: Will it determine the election? Miami Herald. Web.
LeCounte, E., O'Connell, E., & Zhang, G. (2011). Maternal and child health indicator highlights in Miami-Dade county, 2008-2009. Miami-Dade County Health Department EPI Monthly Report, 12(6), 1-5.
Miami City, Florida statistics and demographics. (2000).
Miami Dade Government. (2015). Housing. Web.
Numbeo. (2018). Pollution in Miami, FL, United States.
Peristats. (2013). Florida Miami-Dade county. Web.
Toro, M. (2014). Maps: Los Latinos en Miami-Dade.
U.S. Department of Housing and Urban Development. (2016). Comprehensive housing market analysis: Miami-Miami Beach-Kendall, Florida. 
Velis, E., Shaw, G., & Whiteman, A. S. (2010). Victim's profile analysis reveals homicide affinity for minorities and the youth. Journal of Injury and Violence Research, 2(2), 67-74.